---
Sea Level Transport, LLC.
| | |
| --- | --- |
| Loading a dump truck on the M/V Lite Weight | Beach landing at Elfin Cove |
| Lumber for crew quarters | Unloading at Elfin Cove |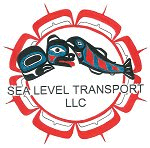 Sea Level Transport, LLC
PO Box 210253
Auke Bay, AK 99821-0253
Phone: 907-790-3450
Cell: 907-321-3450
Fax: 907-790-4318

<!a href="http://www.thebbb.org/" target="new"><!img src="bbb-logo.gif" width="78" height="85" alt="Member of The Better Business Bureau" border="0"><!/a>

HOME | M/V LITE WEIGHT | SERVICES | UNIQUE PROJECTS | DECK CRANE | GALLERY | LINKS
---

There have been [an error occurred while processing this directive]hits since April 3, 2002.

This site was designed and is supported by:
Southeast Micro Consultants ©2001-2003
Here are some of our search words that relate directly to this site:
landing, barge, craft, freight, inter, island, alaska, southeast, marine, transport, cargo, landing barge, landing craft, remote, site, ak, Alaska, AK, SE, se, sites, beach, shore, cabin, locate, locating, location, landings, beach landings, southeast alaska, barging, barges, service, services, barge services, contractor, contractors, marine contractor, marine contractors, consolidator, consolidators, forwarder, forwarding, transportation, transporting, freight consolidator, freight consolidators, freight forwarding, freight forwarder, Juneau, juneau, island, auke, bay, shelter, douglas, elfin, cove, excursion, gustavus, Gustavus, inlet, hoonah, Hoonah, Elfin Cove, elfin cove, skagway, haines, chilkat, chilkats, angoon, sitka, Angoon, whitestone, harbor, colt, horse, admiralty, baranof, chichagof, kuiu, kupreanof, etolin, prince, of, whales, alaska transport, pelican, Pelican, tenakee, Tenakee, warm, springs, Tenakee Warm Springs, Baranof, Baranof Warm Springs, Inside Passage, Alaskan, native, villages, lynn, canal, cross, sound, endicott, sullivan, berners, bay, echo, cove, echo cove, thane, lucky, me, lucky me, taku, seymour, chatham, straight, petersburg, glacier, glacier bay, bartlett, bartlett cove, crane, deck, deck crane, hydraulic, vehicle, vehicles, lumber, building, supplies, fuel, heating, propane, gas, gasoline, diesel, helicopter, helicopters, storage, tank, tanks, excavator, excavators, forklift, forklifts, tow, towing, salvage, salvaging, sling, work, lightering, tending, demolition, waste, environmental, environment, concrete, delver, delivery, dock, prefabricated, pre-fabricated, lodging, mooring, outfall, outfalls, .